You can now find the Aldrich Center on Yelp!
Love the Haley & Aldrich Room's audiovisual setup? How about those cookies you ordered? Perhaps you appreciated the convenience of being so close to the State House? Whatever made your time at the Aldrich Center memorable, we'd love to hear about it! Leave a review and let others know what kind of experience you had with your event or meeting at the Aldrich Center. Click the link below to share your thoughts.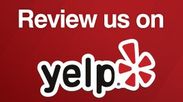 Don't have a Yelp account? You can also find us on other social media--links are at the top of the page.